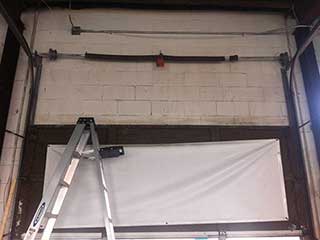 Most people think that the most important part of a garage door system is the opener. While it is definitely an important device, whether your have a manual or an automatic door, the springs are always the ones that bear the full weight of the panels. They are what helps the door open and close by counterbalancing its weight with the use of tension based force. Eventually, these components will need to be replaced, or their tension will need to be adjusted because your door will start to become unbalanced. Our team can help you in both instances, and with any other type of issue that may affect these components.
The Old Extension Type
Extension springs have been around for a while. They are installed over the door's horizontal tracks, in a pair; i.e. one on each side. Both units fully extend as the door closes, and then contract in order to raise back open. They are a little less expensive than torsion springs, but they are also weaker, and won't last as long. Due to their higher chance of whipping around when they break, they are usually interlaced with safety cables, so that they will be anchored in place when they break.
The Modern Torsion Method
Torsion springs are the newer of the two types. Rather than extending and contracting, they rotate and twist in order to generate torque, which assists in facilitating the door's movement. Because these units are stronger and more flexible, oftentimes only a single one can be enough. They are installed across a steel shaft parallel to the length of the door. The shaft is connected to drums, which wind and unwind cables that are connected to the bottom of the panels. Torsion springs need to be lubricated every so often to reduce the friction based strain they go through and increase their longevity.
The Dangers Of DIY Replacement
When a spring breaks, your door loses the support system that helps it move, which means you won't be able to open or close it until the broken unit is replaced. This type of project can be incredibly dangerous, as it involves dealing with a tremendous amount of tension. Our experts at Garage Door Repair Monticello can safely carry out the required spring replacement, and see to it that using your door doesn't feel like playing a game of Russian roulette.
Count on us when it comes to:
Galvanized Torsion Spring Replacement
Garage Door Troubleshooting Services
Automatic Door Opener Replacement
Residential Garage Door Replacement