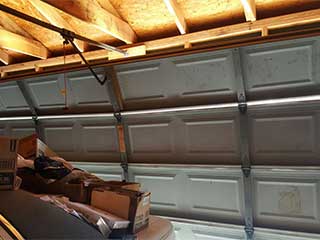 Most garage door systems aren't going to last for a decade without experiencing a few problems. While some repairs may be inevitable, a lot of problems can be prevented, and the system's longevity can be significantly extended if it receives professional maintenance. That's one of the many things our technicians can assist you with.
Taking Care Of The Springs
Because they're the parts that are responsible for counterbalancing the full weight of the panels, your garage door springs suffer from a lot of wear and tear. To extend their life expectancy, our technicians will check their coils for deformations and gaps, lubricate them to ensure their efficiency and silent operation, and even adjust their tension to reduce their strain. A lower chance of unexpected breakdowns would mean safer overall operation.
Speaking Of Safety
There are special mechanisms your automatic garage door opener uses to prevent it from closing the door while something is blocking its path. To make sure the door is safe to use, we will test the auto-reverse function of your opener and make sure the alignment of its safety sensors is correct. We'll also check the lenses of these important photo eyes to ensure they're undamaged and clean.
Additional Inspections And Servicing
Your garage door tracks and rollers will also benefit from our maintenance service. We will straighten out any bends we find and make sure that the tracks aren't beginning to rust. As for the rollers, we'll lubricate them, as well as the hinges, to see to it that the door is able to move smoothly up and down.
Don't Wait For Something to Go Wrong
Instead of only calling our experts at Garage Door Repair Monticello after something breaks down, take the preventive route and schedule a maintenance appointment today. We'll make sure your door is in the best condition possible, and that all of its different parts are working flawlessly.
Our team can also take care of:
Bent Garage Door Track Repair
Garage Door Tune Up Services
Roll Up Garage Door Services